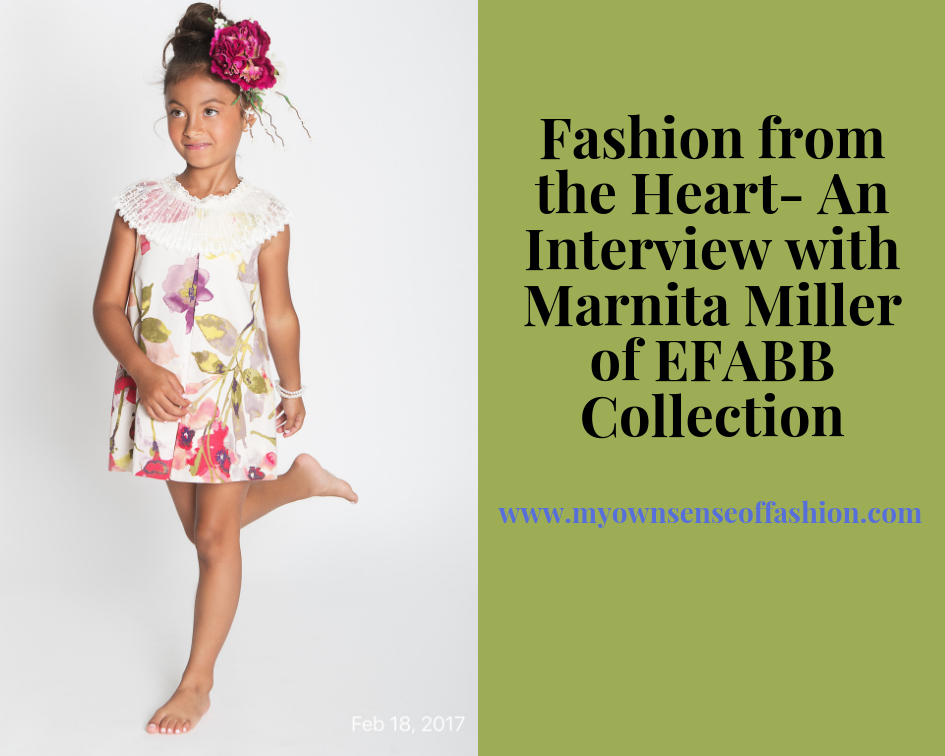 EFABB COLLECTION
Designer: Marnita L
Image Credit: Shaina Miller
Here at My Own Sense of Fashion, we are big on highlighting designers from around the world. However, we especially loved when we can highlight ones that come from our local fashion scene. For our latest interview, we had the chance to speak with Marnita Miller, the talented designer behind the line EFABB Collection. We had a chance to discuss several things including in what way you can personally help this line. Keep reading to check out our exclusive interview.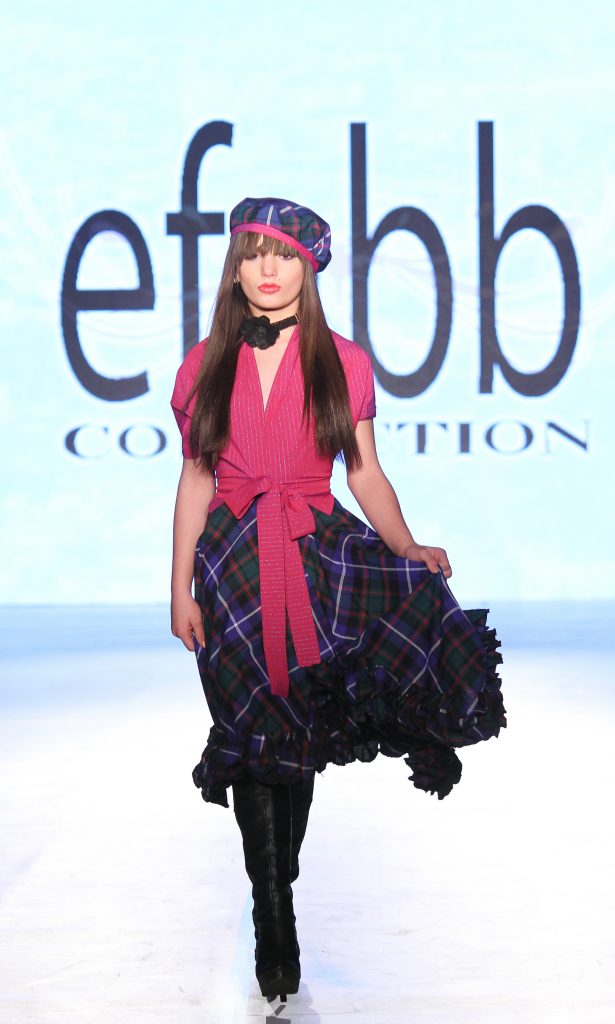 EFABB COLLECTION
Designer: Marnita L
Image Credit: Mark Gunter
1. For those who are unfamiliar can you tell me a little more about EFABB Collection?
I am a self- taught designer. The EFABB COLLECTION was birthed from my heart, passion, and love of all things beautiful. The stylish collection and pieces are infused with color, sophistication, and are sometimes whimsical. Yet, the wear-ability is for the young at heart, fashionable teens, and fashion-forward adults alike. EFABB COLLECTION is designed to exude an elegant, fashionable beautiful brand that makes anyone wearing them feel……. Absolutely Fabulous!!!
My designs are bold, yet practical. My use of vibrant colors and unique fabrics create a classic,
sophisticated, trendsetting style and my tailoring skill have gained a following in the South.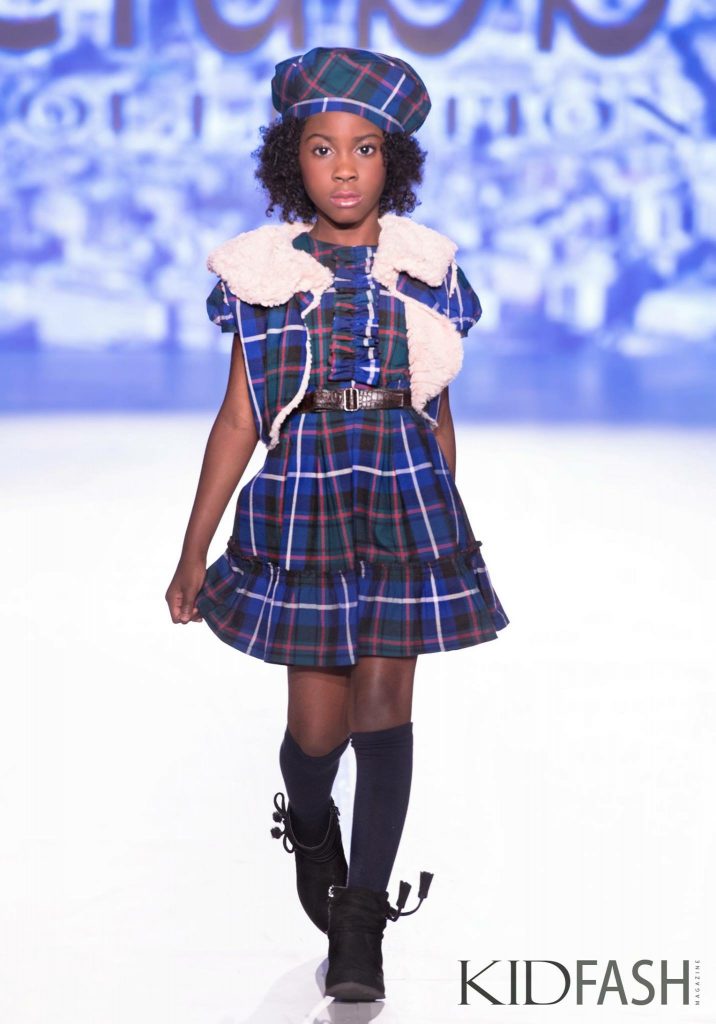 EFABB COLLECTION
Designer: Marnita L
Image Credit: Mark Gunter
2. What was the inspiration behind the name?
I opened a clothing boutique in 2014. I knew I wanted to invoke a reaction and feeling from my guests' shopping experience. So, I thought about how I wanted my shopping experience to be.
I wanted to feel Elegant,
I needed to be FAshion forward,
I desired to be Bold
I wanted to feel Beautiful
I knew that my experiences as a shopper were sometimes far less from what I wanted and deserved, So I took on my own wishful shopping experiences and invoked my own feelings and needs, and EFABB was born.
3. EFABB Collection is a kid's line. Did you always want to design for children and teens?
Yes. but not just kids and teens but for young adults too. Love and Passion are my approach to design. And because of these feelings, I started with kids and teens first because I was a kid doing what I loved to do. I would sit and watch my grandmother make quilts and dresses. I was about 6 years old, and these things were the driving forces from the moment my feet could reach the pedal and my little hands could turn the wheel of my grandmothers' vintage Singer sewing machine. As a high school graduate, I had high hopes of attending Parson's School of Design in New York City, but when tragedy struck my family years before, my dreams were met with much reluctance. Years passed, but then I found my muse in my first granddaughter seven years ago. Not giving up on my passion, my love for creating clothing came out of emotion. Because of this, I started off with kids and teens clothing. I have one daughter who I created clothing for all the time. She has three beautiful little girls of her own (my grands). Mackenzie, the oldest, models for the brand. Their personalities are my inspiration for the kid's collections. I also have an 18-year-old son who keeps me fashion conscience in urban styles.
I design for adults too. I have a few celebrities, who are hot in the music industry who I'm designing pieces for now. I'm so blessed and thankful for these relationships and opportunities.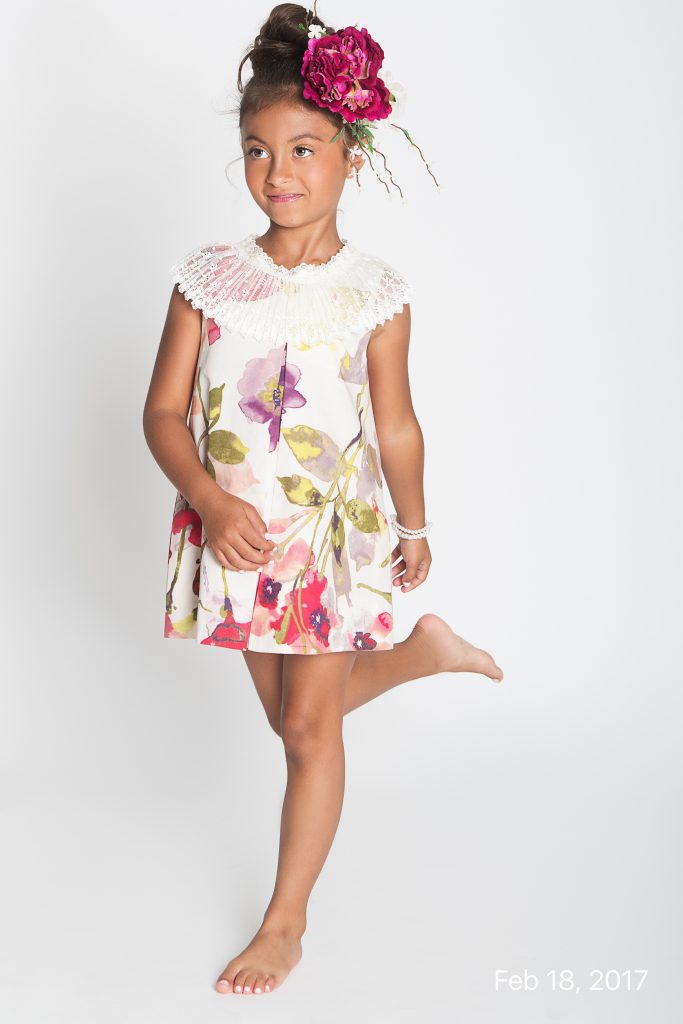 EFABB COLLECTION
Designer: Marnita L
Image Credit: Shaina Miller
4. In recent years there have been more kids becoming designers. What are your thoughts and what advice would you offer to those coming up?
Firstly, Things are so different then it was for me growing up. Technology has changed the flow and makeup of things in the fashion industry. It has opened so many gateways for designers to enter then I could have ever dreamed of. Knowing how to sew is obsolete. Nowadays you don't need to know the basic principles of garment construction. That alone is heartbreaking. I am self-taught. That for me meant I had to learn how to do it all to produce a quality well-made garment that would last throughout the years.
Secondly, money or status should never be how a person arrives at or becoming anything. When I said I was self-taught I didn't mean I didn't prepare. I wanted to be at my best. I bought books and took notes. I answered questions that test my knowledge of information from those books. I had a passion that drove my spirit to learn and create from the heart of all things beautiful.
So, my advice for young kids who really want to satisfy a passion within for fashion, don't cut corners. Be driven by that passion and not by a quick fix or the "I want it now" attitude. Develop your craft so that what you put on paper can be created by you first. That's what I love about designing. Only then can you say, "I designed that". You get to choose, not a team of others. Know your worth, know your fabrics, colors, and style. Your designs should never be cookie cutter, it should be unique to exude what's in your heart and the creative force behind your collections!!!
5. You recently mentioned on your Instagram that you are seeking sponsorship for EFABB. Can you explain more about it and how people can help?
I invested in myself first to go as far as I could on my own. Facing many limitations, I continued to believe in my abilities as a designer. It was important for me to build a brand with merit and without debt. Starting at the bottom with kids and teens looking to start or broaden their career in modeling was where I wanted to start. I started the line with $350 for fabric, one sewing machine, 15 girls and their moms. Today these moms have become ambassadors for the EFABB brand. They truly love the brand. I want to create bonds with family values, create relationships with parents and earn the respect of models. I want to be a role model for them to emulate both on and off the runway. It is important for me to inspire them through the EFABB brand by offering something they wanted to achieve for themselves; modeling. So, the overall attitude of each model becomes the driving force toward school, grades, their respect for their parents and others which are all a part of the EFABB casting and training process. EFABB open model castings require all models to answer questions regarding leadership skills and their desire to be a role model for sibling and peers, but most importantly they are required to get to know and work with other models no matter what race or disability, as a representative of the EFABB brand.
As a believer in GOD's word, it's important for me to do what I can to motivate and create life lessons to create value. GOD's word says (Luke 6:38) Give, and it shall be given unto you; good measure, pressed down, and shaken together, and running over, shall men give into you. For by your standard of giving it will be given to you.
Since our launch in 2017, EFABB COLLECTION is becoming the clothing brand models (known and unknown; inspiring or emerging) want to walk for. "It's all about the story and what the brand stands for".
I have been blessed to show EFABB COLLECTION on many fashion platforms both domestic and internationally. Every year since our launch, I have given young girls/boys, teens and young adults ages 6 to 19 an avenue to jumpstart their modeling careers by becoming a part of a clothing brand with meaning. I want to continue the opportunity to cultivate through training and preparing models to walk on runways representing the EFABB brand. Today, EFABB COLLECTION has grown by leaps and bounds. To date, I can't keep up with the demand opportunity. This year I had the opportunity to show the new collections for the third time during New York Fashion Week. I also can take the EFABB brand to market, which is my ultimate goal and the biggest hurdle I face today. I am currently in communication with DTLA Production Company out of California who is willing to work with me and ready to move forward in production.
Seeking sponsorship is the only way I can continue my efforts in both paving the way for young people and taking EFABB COLLECTION to the next level. I created a GoFundMe account for anyone wanting to support.
6. Lastly, where can people find EFABB Collection online?
We are currently working on our online website, but until then you can see and follow us on
Instagram @efabbcollection
Facebook page: Marnita Miller
Please feel free to DM me.
Special thanks to Marnita. Be sure to check out EFABB Collection online. Did you enjoy this interview? Have a suggestion about who we should interview next? Let us know in the comments.
All opinions expressed on the blog appear courtesy of Tamarah Brown for My Own Sense of Fashion © unless otherwise stated (i.e. interviews). No use or reproduction may occur without the written consent of the author. This blog uses affiliate links which generates a small commission from purchases.
Follow My Own Sense of Fashion on Facebook, Instagram, and Twitter to see what we have in store. Let us know what topic you would like next on the blog.