By: Kayla Thomas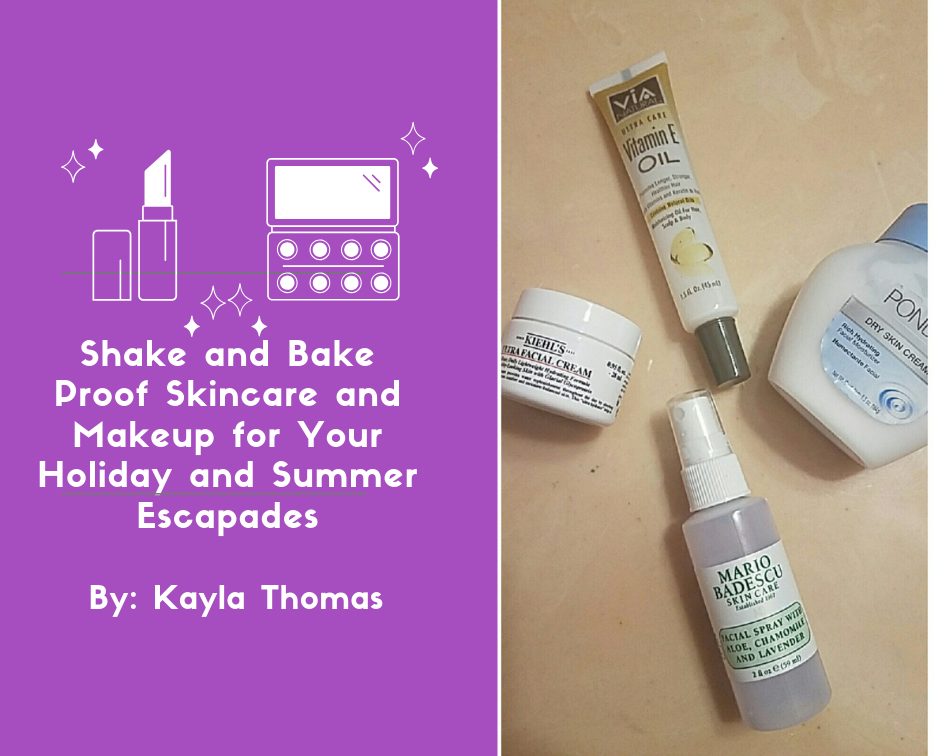 Image Credit: Kayla Thomas
Summer is in full swing and we are all enjoying more outside time, that doesn't mean we can't slay if we want to! I'm Deni and I'm here to bring you some of my favorite makeup and skincare favorites both in products and tips to get you through this hot summer without melting. As we are cookout hopping and firework watching we may want a natural beat to look flawless or our natural skin to be popping.
So, let's start with skincare. On top of hydrating yourself with water, the biggest thing is a bomb skincare routine! More hydration and less overly oily or greasy products.
1.Cleansers:
Believe it or not those hydrating cleansers and foaming cleansers are great for your skin this time of year (even if your skin is oily!) Just make sure they are gentle on your skin! Some of my favorites are the Cerave Hydrating Facial Cleanser, the Cerave Foaming Facial Cleanser, the fresh Soy Face Cleanser and the Neutrogena Hydro Boost Gel Cleanser. All four of these cleansers are gentle on skin, not stripping off the natural oils your skin needs, and can provide you with a cleansed but overly dry feeling.
2. Very Light or Gel Moisturizers
It's July, it's hot and no one wants to do a ten-step skincare routine right now. I totally get it, but you need a good moisturizer to get you through the dog days of summer. I recommend Neutrogena Hydro Boost Water Gel Moisturizer, Kiehl's Ultra Facial Cream, Origins Ginzing Energy-Boosting Gel Moisturizer, and Clinique Drastically Different Hydrating Jelly. Each of these is either a light moisturizer that won't leave a greasy feeling on your skin or a gel that will penetrate your skin for a very hydrated but supple feeling for the skin. This is perfect if you live in conditions where the air is extra dry. Also, no harm in throwing in a good facial spray to reinforce that moisture. Mario Badescu Aloe, Lavender, and Chamomile spray pictured.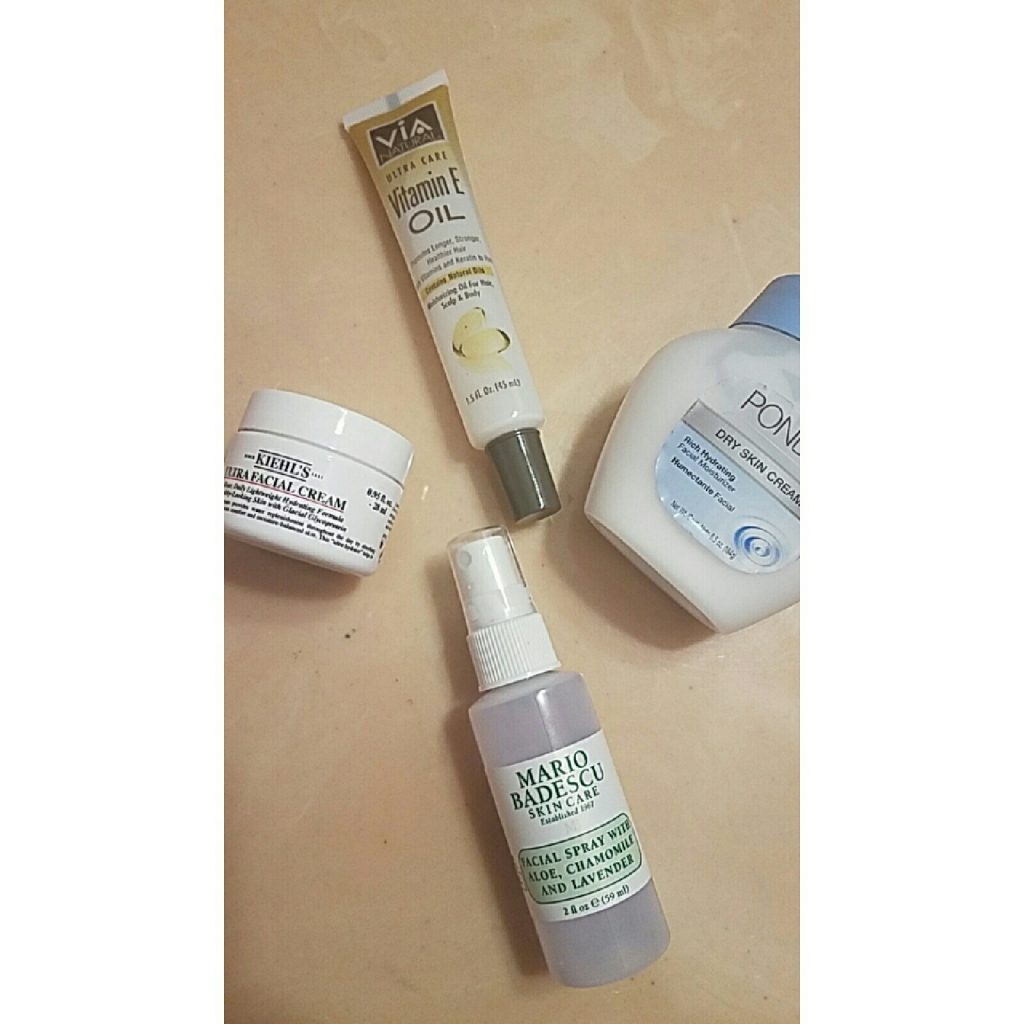 Skincare Picture
Image Credit: Kayla Thomas
3. Sunscreen + After Sun
We ALL need a layer of sunscreen. Even on the days where it's very cloudy, those UVA/UVB rays still come through. The best way is to wear sunscreen when you're bare-faced but also under any makeup you wear. If you're wearing makeup, the SPF in your BB cream or Foundation is not enough and there's no such thing as SPF stacking (Foundation has SPF 15 and I'm wearing a thin layer of SPF 20 sunscreen, so I have SPF 35.) For a sunscreen that performs, is non-pore clogging, and doesn't leave a white cast; I recommend Neutrogena Hydro Boost SPF 30 Sunscreen, Cerave SPF 50 Sunscreen, and Supergoop Unseen Sunscreen with SPF 40. It's recommended that you stay in the SPF 15 to 50 range. For a bonus, I recommend some Sun Bum After Sun Aloe Gel or Fruit of the Earth Pure 100% Aloe Vera Gel to cool your skin down and even out skin tone.
Moving into the makeup category it's easier than you think to have a cute slay that won't melt off in the day.
1. Lightweight Foundations
BB Creams don't provide enough SPF or coverage to help you out in the sun, their ingredients are also quicker to oxidize and breakdown. However, some lightweight, barely there traditional foundations I can recommend are Maybelline Urban Cover Foundation (SPF 50), L'Oréal Infallible Pro-Glow (or Pro-Matte depending on your finish preference each also has SPF 15.) and NYX Can't Stop Won't Stop Foundation. You can also try a foundation stick! Maybelline and Black Opal both have great ones you can pick up almost anywhere.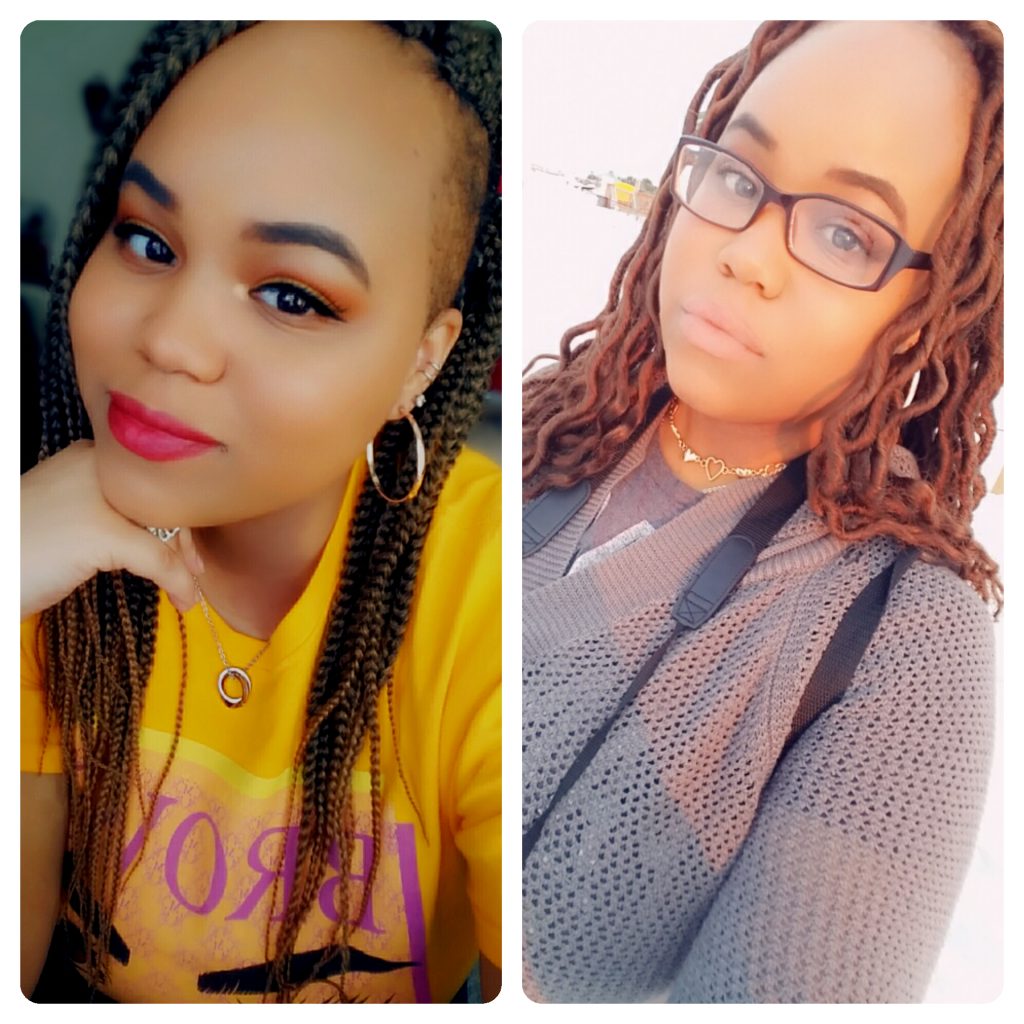 Selfie Pictures
On the left side, I'm wearing NYX and on the right L'Oréal
Image Credit: Kayla Thomas
2. Brow Product
On my bare minimum days, I'll do Brows, Mascara, Foundation, Highlighter, and a cute lippie and call it a day. I want Brows that don't budge as much as I'm on the move. One of my holy grails is Milani Stay Put Brow Color Promade. This product is self-setting and does not go anywhere no matter the temperature. I've tested on every hot vacation I've gone on and it's tried and true.
3. Powder
Keep a good loose finishing powder that won't breakdown and is close to your skin tone for any touch-ups you may need to make. Right now, I'm taking my Maybelline Loose Finishing Powder everywhere.
4. Setting Spray is your Best Friend
Spray your sponge or brush with a little setting spray to help set your foundation as you go on your face. It helps you not have to use a lot of spray later that can melt or cause you to look oily.
5. Lippies
The key to making your lipstick stay is to use your lip balm as usual but blot some of it away before you start your lip application. It'll stick the product left over but also keep your lips hydrated.
I hope these tips and product recommendations can help you have a wonderful and beautiful holiday and hot summer, with or without makeup! If you want to try out a new lipstick that won't melt or move during your outing, try out a new lipstick from Lips by Alexander! Use my code "KAYLASPECIAL" and save 20% off your order!
Make sure to visit me over on With Love, Deni and check out My Own Sense of Fashion's Blog over there!
About the Author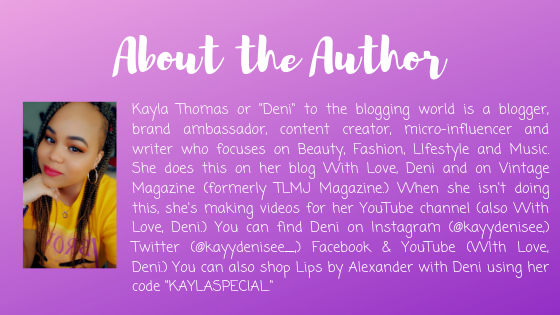 Kayla Thomas or "Deni" to the blogging world is a blogger, brand ambassador, content creator, micro-influencer and writer who focuses on Beauty, Fashion, Lifestyle, and Music. She does this on her blog With, Love Deni and on Vintage Magazine (formerly TLMJ Magazine). When she isn't doing this, she's making videos for her YouTube channel (also With Love, Deni). You can find Deni on Instagram (@kayydenisee), Twitter (@kayydenisee_), Facebook and YouTube (With Love, Deni). You can also shop Lips by Alexander with Deni using her code "KAYLASPECIAL".
Special thanks to Kayla. Be sure to check out With Love, Deni at her blog, Facebook, Instagram, Twitter, and YouTube.
How do you celebrate the 4th of July? Did you enjoy this Blog Swap? Who should blog swap with next? Let us know in the comments.
All opinions expressed on the blog appear courtesy of Tamarah Brown for My Own Sense of Fashion © unless otherwise stated (i.e. interviews). No use or reproduction may occur without the written consent of the author. This blog uses affiliate links which generates a small commission from purchases.
Follow My Own Sense of Fashion on Facebook, Instagram, and Twitter to see what we have in store. Let us know what topic you would like next on the blog.