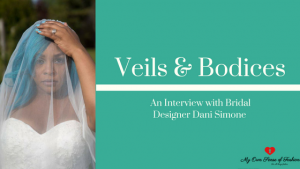 Image Credit: Jeff Lamothe Photography
It's Bridal Season.  This year I want to give our readers a behind the scenes look at the bridal world.  I am kicking things off with an exclusive interview with Bridal Designer Dani Simone.  I recently discovered Dani's designs thanks to a suggestion from a mutual contact.   Keep reading to find out more about her gorgeous gowns and more.
 1. Can you tell our readers about how you got your start in bridal design?
I started sketching wedding gown designs when I was 9 years old. One of my first retail jobs was at David's Bridal when I was 18. After finishing fashion school and working in the fashion industry designing denim and cut & sew knits. I decided to start my own custom wedding dress line because I knew I could handle one dress order at a time.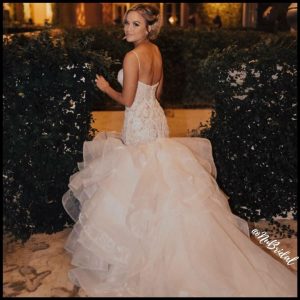 Image Credit: NuBridal Designs
2. Which bridal trend is your favorite and why?
I love the separates trend. And not just top and bottom but shorter dress under a skirt with a train, gowns like that. I love getting more than one look out of a gown.
When it comes to selecting a bridal gown what is the common mistake made by brides-to-be?
Since I am a custom designer, I wish more brides understood that getting their gowns custom made and designed just for them is the best way to personalize your day. Even if you go into a salon and try on a gown, there are things that might be less costly to have made from scratch rather than rack up $100's of dollars in alterations. Most brides find SOMETHING they don't like or would want to change, and they usually either pay the additional fees or stick with a gown they aren't fully happy with. Custom design lets you get exactly what you want because you work with a designer to create what you want.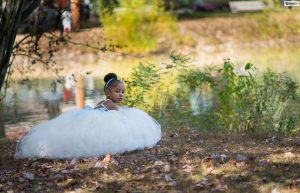 Image Credit: Jeff Lamothe Photography
4. What sets NuBridal Designs apart?
I shortened the name to NuBridal because I wanted to bring a new concept to wedding gowns while still retaining the vintage dressmaking concept. I do design trunk shows where I work with brides in person to create their dream dress, I also love giving free gifts to my brides so they feel special.
5. Lastly, where can people find NuBridal Designs online?
I'm a five-star rated seller on Etsy at www.nubridal.etsy.com. You can also follow me on Nubian Bridal Designs on Facebook, check out my Instagram and Twitter @nubridal.
 Special thanks again to Dani.  Be sure to find NuBridal Designs online.
Did you enjoy this interview? Which bridal related topics would you like to see on My Own Sense of Fashion? Let us know in the comments below.
All opinions expressed on the blog appear courtesy of Tamarah Brown for My Own Sense of Fashion © unless otherwise stated (i.e. interviews).  No use or reproduction may occur without the written consent of the author. This blog uses affiliate links which generates a small commission from purchases.
Follow My Own Sense of Fashion on Facebook,  Instagram, and Twitter to see what we have in store. Let us know what topic you would like next on the blog.