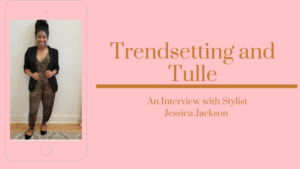 I wanted to close out the year with something special.   For this interview, I chatted with stylist Jessica Jackson.  I initially met Jackson while attending The Premiere Fashion Show in May.  Find out more about her experience as a stylist and much more.
1.

      
Let's start by introducing yourself to our readers.
My name is Jessica Jackson and my styling business is named after my first and middle name. My dad helped me come up with the name. I'm from Mobile, Alabama and currently reside in New Orleans, Louisiana. I love shopping, cooking, traveling, long romantic walks to the wine aisle, I'm the happiest being with my friends and family.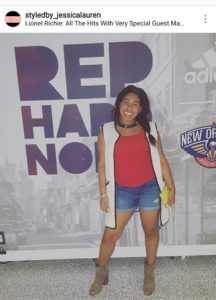 2.

      
You have worked as a Wardrobe and Fashion Stylist on the local fashion scene. What do you think sets you apart?
I think what sets me apart is the reasoning behind why I became a stylist. I worked retail during my time in college and I found that so many women had gotten married, had children (which are beautiful acts of life), but in the process, they had completely placed themselves on the back burner and lost their confidence. I'm extremely passionate about helping women of all sizes and ethnicities feel beautiful in their own skin and express that through style.
3.

  

Each season we see a lot of fashion trends come and go. Which recent trend has been your favorite and do you think it going anywhere soon?
I'm big on comfort and being chic at the same time, so I've loved seeing how athleisure has become a major trend and the fact that it's now okay to wear your yoga pants beyond the gym. Just make sure you accessorize correctly! I am also a fan of the layering style being mimicked of the 90s coming back and the impact statement earrings have made. This trend I don't see going anywhere anytime soon because you can easily dress up a t-shirt and jeans with the right earrings.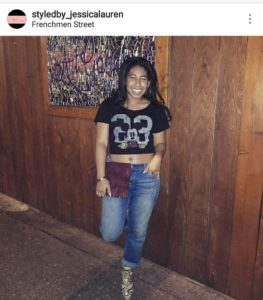 4.

      
You style a range of clients including brides.  What best advice would you give to those seeking styling services?
I'm the stylist that comes over and is like your homegirl instantly! The best way to solicit my services is to contact me via email, or social media. We'll then have a conversation about what your goals are for my services, go from there and most importantly have fun. If you're not having fun you're not doing fashion right!
5.

      

Lastly, where can people find you online?
Special thanks again to Jessica. Be sure to follow her and Styled by Jessica Lauren online.
Did you enjoy this interview? Who would you like us to interview in 2018?  Let us know in the comments below.
All opinions expressed on the blog appear courtesy of Tamarah Brown for My Own Sense of Fashion © unless otherwise stated (i.e. interviews).  No use or reproduction may occur without the written consent of the author. This blog uses affiliate links which generates a small commission from purchases.