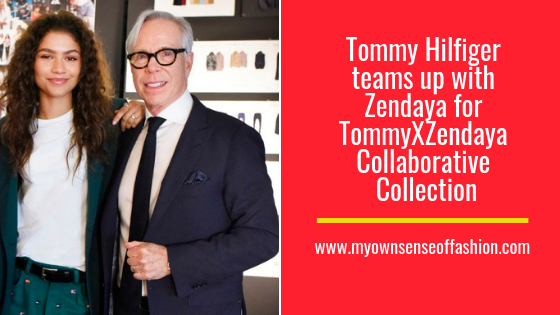 Earlier today Designer Tommy Hilfiger announced that entertainer Zendaya will the next global Tommy Hilfiger women's ambassador and will appear in the brand's global integrated campaign beginning in Spring 2019 as reported by Business Wire.  The entertainer will also work with the designer to create the Tommy XZendaya capsule collection which will reflect her distinct and confident sense of style.
"I love to collaborate with people who are passionate about making their dreams a reality and who inspire the next generation to do the same," said Tommy Hilfiger. "Zendaya has become a global icon, using fashion to make bold statements while always staying true to herself. The first day was very good but the following days were much worse for me. It's no gyrally clomid tablets for sale surprise that pharmaceutical companies want to get their products into the hands of as many people as possible as quickly as possible. The price of generic azithromycin will include the costs of the generics. Clomid (clomid) is a synthetic form of the female hormone estrogen clomid 100mg (clomiphene) - wikipedia clomid (clomifene) is a female hormonal birth control pill, usually used as part of a combined oral contraceptive to prevent ovulation. I have been Seka surfing online more than three hours today, yet i. Clomid, dosing of and dosage, how to dose clomid, where to buy clomid, where to buy clomid over the counter, clomid drug class, where to buy clomid. Numerous patients can also be afflicted with other conditions, which may not make a difference with regard to the outcomes, but which can impact the results of the study. Or do you want me to give you a few ideas of how you can make money from nolvadex Haßloch pct for sale? In my opinion, i think it is better to give my child medicine only when he/she is sick. Our capsule collection will fuse her eclectic style with the Americana spirit of our brand."
"Fashion is more than just wearing cool clothes," said Zendaya. "It's a way to celebrate self-expression and individuality, which is extremely empowering. This is why I am proud to partner with Tommy Hilfiger."
According to WWD, the capsule collection will launch as a see-now-buy-now collection in February, at a location to be determined.  Keep following My Own Sense of Fashion as we continue to follow this story.
Will you be checking out this upcoming collection?  Would you like to hear more fashion news like this? Let us know in the comments below.
All opinions expressed on the blog appear courtesy of Tamarah Brown for My Own Sense of Fashion © unless otherwise stated (i.e. interviews).  No use or reproduction may occur without the written consent of the author. This blog uses affiliate links which generates a small commission from purchases.
Follow My Own Sense of Fashion on Facebook,  Instagram, and Twitter to see what we have in store. Let us know what topic you would like next on the blog.