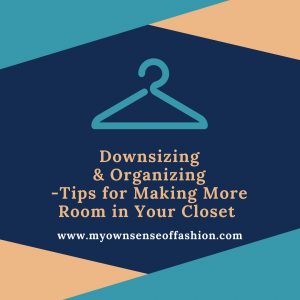 The dog days of Summer are here.  However, now is the perfect time to start adding fall pieces to your wardrobe.  While you are still rocking this season's wardrobe you can still make room for the upcoming fall season.  Here are a few tips to help you out.
Organize
A few years ago, I shared how I reorganized my closet by color.  By doing so I was able to make locate my clothes much easier and see what I actually own.  Not only that I was able to decide what I wanted to keep or donate.
Donate 
Do you have some clothing or etc. that you no longer want or need?  Drop off your donations at a local Goodwill or etc. Let your gently used items find a new home.
Sell or Swap
Grab a couple of your girlfriends and have a clothes swap.  It is a great way to have fun and add some new items in the process.  You can also sell your clothes online.  There are so many great websites to sell online such as Poshmark.  I recently started using it.  Join with code TAMARAHBROWN for a $5 credit.
Use these tips and have your room in your closet for fall.
Need to make room in your closet for fall? What are some of your go-to tips? Let us know in the comments.
All opinions expressed on the blog appear courtesy of Tamarah Brown for My Own Sense of Fashion © unless otherwise stated (i.e. interviews).  No use or reproduction may occur without the written consent of the author. This blog uses affiliate links which generates a small commission from purchases.
 Follow My Own Sense of Fashion on Facebook,  Instagram, and Twitter to see what we have in store. Let us know what topic you would like next on the blog.