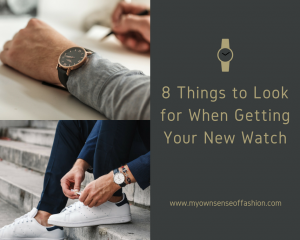 Image Credit: Prime Ambassador 
      Buying a watch is both an enjoyable experience and a conscious one. Going to a store can be an overwhelming experience if you don't have a clear idea of what you are looking for and if you are realistic about it, the fact is that there are way too many options out there to be content with just one.
       The main feature on one of them can be sorely lacking on another.  In the end, you can always be thankful for having the Internet to back you up and help you make a smart choice. Many established brands have found their customer base online without the need of setting up shop all over the world.
Prime Ambassador  is one of them, and they would like to share with you the eight qualities you should consider when you are hunting for a good wristwatch.
Before listing these noticeable traits, we would like to bring to your attention to The Ambassador Heritage Line. This line of watches covers most of these special features with clean designs that evoke the effectiveness of simpler times. You can see them for yourself with a quick visit to the website. Now on to the list!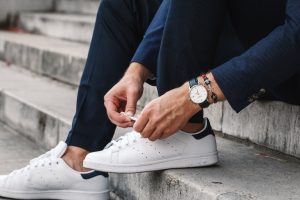 Image Credit: Prime Ambassador 
It Should Go with Your Personal Style
As we stated previously there are thousands of models of wristwatches out there, they come in all types of shapes and sizes, most of them following conventional designs, and quite a few of them with extravagant looks.
The choice of wristwatch should be paired with the type of person you are. If you are a fan of sports, then you need a sturdy watch. If you need to attend business constantly, then you should have a high-end functional watch. If you work with tight schedules, a casual watch will serve you best.
Prime Ambassador has most of these grounds covered for the people who need a durable watch that looks good on any occasion. They can be worn to upscale events as well as casual meetings.
Choosing a Type
Let's clear the air on this trait once and for all: there are only two choices of wristwatches, you can either go digital or you can choose analog.
However, the undeniable fact when it comes to handling business-related events is that an analog watch will always give you a professional look over a digital one.
Prime Ambassador are designed to offer just that while offering one of the best price-performance relations on the men's accessories market. Analog watches will always rise to the occasion when it comes to enhancing your overall look.
The Need of Special Features
This trait comes closely tied to your personal choices and the type of events that you need the watch for.
While digital watches have several alarms and even web-based features, analog just offers to let you know the time as well as little additional features such as a calendar.
If you choose more than one watch based on features, you can have a digital one for your outdoor and entertainment activities, while you use your analog for work and special occasions.
Lasting Durability
Your wristwatches will be as durable as the materials they are made from. Typically high-end watches are made with expensive materials such as gold, silver, titanium and other rare metals. Some brands go outside of the conventional formulas to offer watches made of minerals found in the moon.
The problem with all these offerings is that they are quite expensive and some of them need to be cared for in the form of periodical maintenance. Stainless metal keeps being the number one choice for some of the most durable watches out there, some of them are enhanced when they come lined with special carbon fiber or plastics, but these options are usually for tactical watches.
A good casual watch with vintage designs made of stainless steel will do the job most of the time since most of them are equipped to have even the most basic specs regarding waterproof protection and anti-scratch technology to make them durable.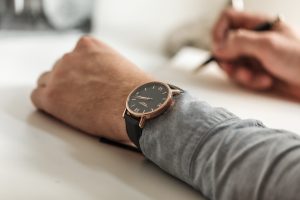 Image Credit: Prime Ambassador 
Picking a Brand
This one can get very tricky since there are a lot of brands out there and some of them rely on the weight their name to sell even their most basic models.
A lot of new players in the field are basing their business model on making some of the most durable watches by upgrading technical specs of vintage designs while keeping the classic feel of their designs.
Prime Ambassador is one of these offerings and their Heritage Line based on distinct time periods of the past century is an excellent proof of this statement.
Choosing the Size of the Right Dial Frame
The dial frame refers to the most direct correlation that can be established between a watch and your body proportions. If you are a big guy, a wristwatch with a petite frame won't do much for your looks or your outfit.
The watch needs to match your personal features as well as your looks. A thin man will be much favored by a watch that has an even dial and an adjusted strap, while a large one will look better with a metal wristwatch that hangs a little loose just at the end of his wrist.
Mixing It Up with Your Wardrobe
Most men don't think about this too often, but your watch needs to combine with your wardrobe in every sense of the word. A golden watch usually looks good with all tones of brown, green and grey.
A silver watch usually is best worn with dark clothing such as black or blue suits. The other thing that needs to be considered is the style of the watch, but this has been established on previous points of this very same article so we'll just make a gentle reminder that flashy sports watches do not go well with a suit no matter how good they look.
Feel the Weight
Most people make the correlation of a hefty watch with a quality, durable one. While most of them are not wrong, there are some pretty good watches out there that don't add a lot of weight to your wrist.
You need to find what suits you best and since you can't go to every store testing out every single watch, you like (as much as you want to). You can check for online reviews to learn the specifics of this particular issue.
If you are able to take into account at least six of these eight recommendations, you'll be making a wise choice when it comes to picking the right wristwatch. These days with so many competitive options trying to earn their spot in a cluttered market, brand recognition is no longer the strongest calling card a good watch can have. The Ambassador line is standing proof of that by offering some of the finest and most refined watches in the market with manufacturing quality second to none, and some of the best prices offered online.
Are you a fan of watches?  Would you like to see more guest posts on My Own Sense of Fashion? Let us know in the comments below.
Special thanks again to Prime Ambassador . Be sure to find them on their website, Facebook and Instagram .
*This post is in collaboration with Prime Ambassador.  No compensation or product was received in exchange for this post. *
All opinions expressed on the blog appear courtesy of Tamarah Brown for My Own Sense of Fashion © unless otherwise stated (i.e. interviews).  No use or reproduction may occur without the written consent of the author. This blog uses affiliate links that generate a small commission from purchases.
Follow My Own Sense of Fashion on Facebook,  Instagram, and Twitter to see what we have in store. Let us know what topic you would like next on the blog.