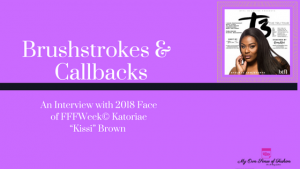 Image Credit: Brian Tru
Over the past few years, I have had the privilege of interviewing previous winners of Face of FFFWeek©. Recently, I had a chance to introduce this year's Face of FFFWeek ©  Katoriae "Kissi" Brown.  I had a chance to speak with the Published International Curve Model and Editor-in-Chief of BTFL Magazine about her FFFWeek © so far and more.  Find our interview below.
 1.  Can you tell our readers a little more about yourself?
I am a wife, mother, painter, stylist, licensed MUA, lash tech, holistic wellness coach, model, & editor of BTFL Magazine, finger wave slayer and basically a bossed-up Jesus girl LOL. I'm a multi-faceted creative who thrives off inspiring others. I aim to use my light to empower women to know they can shine brightly.
I have an album on Tidal/Apple Music/Google Play titled "The Healers Room" where your readers can listen to more of my story. The album is very personal and offers insight into how I went from a fear-filled mean girl to a lightworker.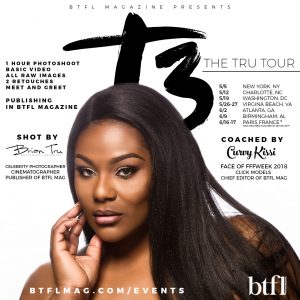 2018 Face of FFFWeek © Katoriae "Kissi" Brown
Image Credit: Brian Tru
2. Congratulations on being declared 2018 Face of FFFWeek©. What was your initial reaction to finding out you were the winner?
I was floored. Gwen inboxed me to ask if we could chat later that day.  The competition didn't even cross my mind, especially since the results weren't due for another day or so. Because of the nature of my business, I honestly thought she was calling to ask me to do something for her, to help her in some way. At that moment I had literally forgotten about the contest. Once she said, "are you sitting down?", a lightbulb went off and I lost it!!!! I was screaming and dancing around, I drove the two minutes from my former job to my home to share the news with Le Hubby (@BrianTru). As soon as he saw my face he knew. It was such a fulfilling moment, being recognized for my hard work, bringing home the win on my own merit. I've waited forever for a fair contest. By that I mean, a contest where I didn't have to beg for votes for weeks or sell the most tickets or leave it up to an audience of people unfamiliar with my greatness. The objective of those types of contests is to drive traffic to their website in hopes of boosting revenue, in contrast, the Face of FFFWeek© competition was based solely on the quality of information in the submission video, and for that I'm grateful.
3. Not only are you an International Plus Model, but Editor in Chief of BTFL Magazine as well. Does either of these positions affect your career and in what ways?
Yes, Yes, Yes!!! Being an international Plus Model allows me to interact with and learn from different cultures. You see firsthand how negative, petty and unnecessarily catty the American culture is when you travel the world and experience genuine peace, love, and positivity from strangers. Prior to becoming a model, I was, and still am, an international vocal performance artist, the experiences I've had internationally have tremendously influenced my desire to inspire and empower others. When I happened upon the plus model universe I was side-eyed because people couldn't believe I was a genuinely nice person. They thought I had a motive of some sort, but just a year later I can tell from the support I now receive.
Those people's views about me have changed, and that makes me ecstatic since I aim to bring like-minded individuals together to maximize the impact made on the world. As the editor of BTFL Magazine, I'm able to give opportunities to so many beautiful women who haven't had the opportunity to be published. There is very little diversity in this industry. The same model gets the jobs, covers, titles and THE SCHMONEY. You can go on most plus size clothing brand sites and see the same few faces. Being signed to a major agency I thought I would have a better chance, but I can see even more clearly now that it's a choice brands make to only use certain people, and that's fine (but not really). Since there was no way to force the brand to work with me or my plus model sisters, Le hubby and I created something for the rest of us to get some well-deserved shine.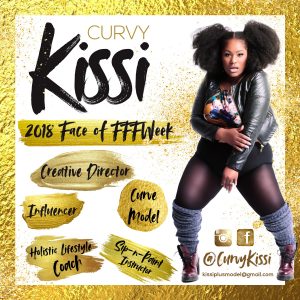 2018 Face of FFFWeek © Katoriae "Kissi" Brown
Image Credit: Brian Tru
                            4. Switching it up a bit if you could raid any celeb's closet whose would it be and why?
Hmm well, any celeb's closet that I would want to raid probably wouldn't have anything in my size lol. I have a healthy obsession with Beyoncé, Rihanna and Cardi B and would dress like them every day if possible. I'm sure I could sew two of their garments together and get it poppin' though. But, if I were to raid within my size range, I would have to say Danielle Brooks from OITNB, Jill Scott, and like 127,528,678,456 of the plus model influencers. The ones that get all the free clothes from brands, mm-hmm, yup lemme get all that Fashion Nova and such lol haaaaaa.
5.  Lastly, where can people find you online & do you have any upcoming projects that you can share?
I am @CurvyKissi on all social media platforms.  I use IG most and I respond to just about everything. My website is www.CurvyKissi.com and most importantly please check out BTFLMAG.COM to really see what I am doing for the plus community. Next up for me is the T3 Tour. Brian and I are traveling up and down the east coast providing opportunities for our social supporters to gain knowledge, receive industry quality images to use in promoting themselves and their brands. Information on the tour is on the BTFL Mag website under the events tab. We look forward to connecting with amazing people who aim to build their net worth by building their network.
Special thanks again to Katoriae.  Be sure to find out her online and see her in action at Full Figured Fashion Week 2018  happening this June.
Did you enjoy this interview? Will you be attending Full Figured Fashion Week?  Who should be the subject of our next interview? Let us know in the comments below.
All opinions expressed on the blog appear courtesy of Tamarah Brown for My Own Sense of Fashion © unless otherwise stated (i.e. interviews).  No use or reproduction may occur without the written consent of the author. This blog uses affiliate links which generates a small commission from purchases.
Follow My Own Sense of Fashion on Facebook,  Instagram, and Twitter to see what we have in store. Let us know what topic you would like next on the blog.