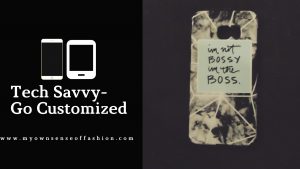 Let's be honest we live in a very tech-driven world.  Whether we are handling business on the go or catching up on the latest e-book then you most likely own a device or two.  One of the best parts of owning a device is customizing it to make it stand out from the rest.  That is where custom phone cases come in.  Keep reading to find out more.
              For those who aren't familiar Go Customized is an e-commerce start-up based in Amsterdam.  Since May 2012, they specialized in unique and original personalized products primarily on the gadget accessories market.  Recently, Go Customized reached out to review one of their phone cases.  I selected their Samsung Galaxy S6 Edge PLUS Custom Full Wrap Slim Case.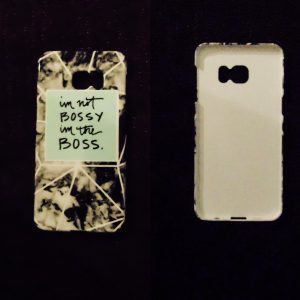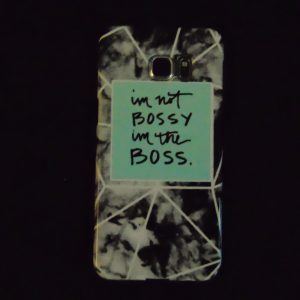 Unfortunately, there wasn't case available for my phone. Instead, I had to improvise with my sister's.  The designing process is straightforward. You can choose between uploading your images or using one of their templates (see above).   I found is there is a demo version of your device helpful. It gave you have a better idea of what your design would look like.  Once you place your order you receive a video showcasing how your item is made which I personally enjoyed.  Overall, I loved how my case turned out.  I would advise you to check to see if your phone is listed first.  Now here's the fun part.
Use our discount code GC-PR-US-MYOWNSENSEOFFASHION to receive 10% off your purchase at checkout.  The code expires April 8th.   You know I wouldn't leave you all out.
Do you like to customize your devices? Let us know in the comments below.
Special thanks to GoCustomized.  Check them out at their website, Instagram, Facebook, and Twitter.
All opinions expressed on the blog appear courtesy of Tamarah Brown for My Own Sense of Fashion © unless otherwise stated (i.e. interviews).  No use or reproduction may occur without the written consent of the author. This blog uses affiliate links which generates a small commission from purchases.
*The product was gifted in exchange for an honest opinion.  All opinions are my own. *
Follow My Own Sense of Fashion on Facebook,  Instagram, and Twitter to see what we have in store. Let us know what topic you would like next on the blog.