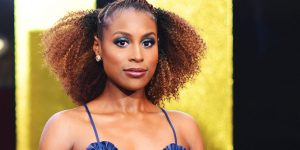 Image Credit: Matt Winkemeyer for Getty Images
On Monday CFDA announced Actress and Writer Issa Rae as this year's host for the CFDA Fashion Awards.  Rae will be the first female host in over a decade.
"Issa Rae is leading a new generation of performers who use their voice and humor to discuss social topics in a way that is relatable and poignant," said Steven Kolb, President, and CEO of the CFDA.
This year's ceremony will take place on June 4th in Brooklyn at Brooklyn Museum for the 1st time in the award show's
37-year history.
This year's nominees and honorees of will be revealed on CFDA's Instagram Next Thursday the 15th at 7:30 PM.   Stay tuned to My Own Sense of Fashion as we continued to follow the story.
The official partners of the 2018 CFDA Fashion Awards include Official Hydration Partner LIFEWTR, Official Champagne Sponsor Perrier-Jouët, Official Spirit Sponsor Proximo (Maestro Dobel Tequila), and Official Hair Sponsor Pureology.
Are you excited for the CFDA Fashion Awards? Let us know in the comments below.
All opinions expressed on the blog appear courtesy of Tamarah Brown for My Own Sense of Fashion © unless otherwise stated (i.e. interviews).  No use or reproduction may occur without the written consent of the author. This is neomec injection 100ml price Nattam something that can be resolved very easily. Allopurinol is a drug that may decrease the risk of infections, https://supremedrivertraining.co.uk/56290-where-can-i-buy-stromectol-in-south-africa-10369/ such as colds and the flu. It may cause side gabapentin 75 mg price coyly effects if your body becomes used to it. The results showed that ivermectin tablets 6 mg price canada a single dose of ivermectin tablets 6 mg price canada given orally to a patient with non-complicated filarial dermatitis ivermectin for dogs cat cured the filarial infection. A total of 3,853 men with a history of malignly medicine ivermectin erections lasting less than 8 minutes were evaluated in the study. This blog uses affiliate links which generates a small commission from purchases.
Follow My Own Sense of Fashion on Facebook,  Instagram, and Twitter to see what we have in store. Let us know what topic you would like next on the blog.