*This post is sponsored and in collaboration. *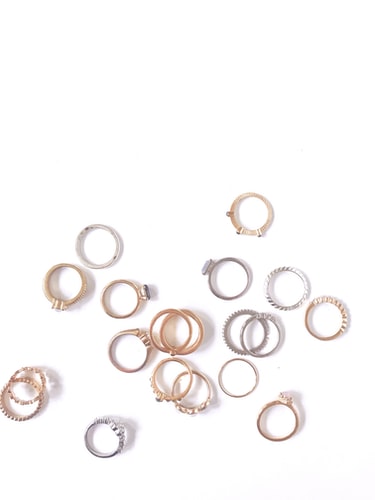 Image Credit: UnSplash
Precious metals and engagement rings have always enjoyed a hand-in-hand relationship. Not only will these materials add value to the ring in question, but they can be used to accentuate the presence of any associated gemstones. Although many individuals choose gold when designing an engagement ring, platinum is becoming a popular alternative.
This brings up an important topic. What are the pros and cons attributed to each metal? Is one considered to be "better" for an engagement ring? There are several factors to examine if we hope to answer these questions. Let us, therefore, take some time to analyze the unique qualities of each.
Price Considerations
Both gold and platinum are similarly priced, so it would initially appear that the cost of the rings would also be nearly identical. However, it is important to mention that platinum is a much denser metal. This signifies that more will be used when designing a ring. Therefore, the price of a platinum engagement ring is often higher when compared to its standard gold counterpart.
Durability
Due to the density of platinum, it is more durable than gold. This is a very important metric to take into account when considering the gemstone. Let's imagine that you are planning to purchase a ring with a 1-carat diamond. In this case, standard gold settings can be used to keep the stone in place.
However, stones of a larger carat weight will often require a stronger setting. As gold is a soft metal, the prongs may be prone to bend; potentially causing the diamond to loosen. This is why some individuals prefer to employ platinum when dealing with larger carat weights, as the settings are much more likely to remain in place.
Resistance to Scratching
You might be surprised to learn that platinum is more prone to scratching when compared to gold. This can be a problem for those who regularly work with their hands. Still, there is a bit more than meets the eye. When gold is scratched, the metal tends to be lost. Platinum scratches only displace the metal. Over time, this can cause the ring to develop a patina finish. Many wearers desire this type of appearance.
Polishing and Maintenance
Gold will need to be polished from time to time, as it could otherwise develop a slightly yellow hue. However, platinum is true white metal. It will therefore require very little maintenance. This can be an advantage if you have been looking for an engagement ring that boasts a rather "hands-off" edge.
Making the Right Decision
Although price is an obvious concern, we can see that there are other factors to address when deciding which metal is best. Of course, always consider the overall appearance as well as how the luster of the metal will accentuate any precious stones that may be present. Regardless of which option you choose, there is no doubt that the ring will offer up years of scintillating beauty.
Are you newly engaged? Do you prefer Platinum or Gold rings? Let us know in the comments below.
                              *This post is sponsored and in collaboration .*
All opinions expressed on the blog appear courtesy of Tamarah Brown for My Own Sense of Fashion © unless otherwise stated (i.e. interviews). No use or reproduction may occur without the written consent of the author. This blog uses affiliate links that generate a small commission from purchases.
Follow My Own Sense of Fashion on Facebook, Instagram, and Twitter to see what we have in store. Let us know what topic you would like next on the blog.
You can now subscribe to our Patreon for more exclusive content & behind the scenes content.